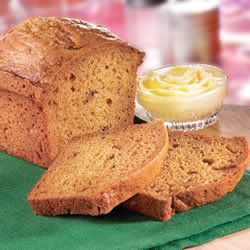 Pumpkin pie is amazingly yummy, there's no denying that. For some people the texture can be off-putting though. For those of you who can't get enough of the flavor but can't stand the texture, try this bread recipe that truly captures the essence of pumpkin pie.

PUMPKIN PIE BREAD
3 1/2 cups flour
2 teaspoons baking soda
1 teaspoon baking powder
3 teaspoons pumpkin pie spice
1 teaspoon salt
3 cups sugar
1 cup vegetable oil
4 eggs
15 ounce can pumpkin
1/2 cup water




Directions

Preheat oven to 350 degrees F. Grease two loaf pans and set aside. Combine flour, baking soda, baking powder, salt, and pumpkin pie spice. In another bowl, beat together sugar, oil, eggs, and pumpkin. Add flour mixture alternately with water and stir until well combined. Pour batter into prepared pans and bake for 55-65minutes, or until a toothpick inserted into the center comes out clean.