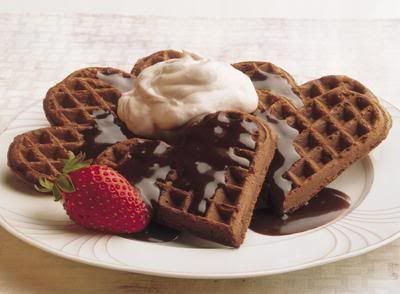 Waffles are yummy, add chocolate to them and they become downright irresistible.

CHOCOLATE WAFFLES
1 1/2 cups flour
3 teaspoons baking powder
1/2 teaspoon salt
1/2 cup sugar
3 tablespoons unsweetened cocoa powder
1 cup milk
2 eggs
4 tablespoons butter, melted
1/4 teaspoon vanilla




Directions

Preheat waffle iron. While iron is heating, combine flour, baking powder, salt, sugar and cocoa in a large bowl. Whisk to combine then stir in milk, eggs, butter and vanilla. Stir until mixture is smooth. Spray heated waffle iron with non-stick spray. Pour mix onto the heated iron and cook until golden.