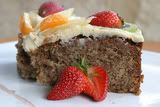 Nutmeg that is a spice that typically doesn't get the recognition it so richly deserves. It is usually used in recipes with other spices such as cinnamon, ginger or cloves. Fortunately, this cake really lets the delicious flavor of nutmeg shine through all on its own.

NUTMEG CAKE
3 eggs
1/2 cup butter, softened
1 1/2 cups sugar
1 cup buttermilk
1 teaspoon vanilla
2 cups flour
1 teaspoon baking powder
1 teaspoon baking soda
2 teaspoons ground nutmeg
1/4 teaspoon salt
1/2 cup brown sugar, packed
3 tablespoons cream
1/4 cup butter
1 1/2 cups powdered sugar




Directions

Preheat oven to 350 degrees F. Lightly grease two 9 inch round cake pans. In a small bowl beat eggs well. In large bowl, cream 1/2 cup of the butter or margarine and the white sugar until light and fluffy. Mix in the beaten eggs and stir until well combined. Mix together the flour, baking powder, baking soda, ground nutmeg, and salt. Add the flour mixture alternately with the buttermilk combined with the vanilla to the creamed mixture in three parts, beginning and ending the flour mixture. Spread batter into prepared pans. Bake for 25 to 30 minutes, until a toothpick inserted in the center of the cakes comes out clean. Let cakes cool completely before assembling the final cake.

Caramel Icing:

In a medium sauce pan heat the brown sugar, cream or milk, and butter until it boils. Boil for 2 minutes then remove from heat. Let cool. Stir in powdered sugar and beat until smooth. Add more cream or powdered sugar as needed to achieve desired spreading consistency.