Chocolate and hazelnut is a decadent combination and they shine beautifully in this cheesecake.

CHOCOLATE HAZELNUT CHEESECAKE
2 cups semi sweet chocolate chips
1/2 cups vanilla wafer crumbs
3/4 cup toasted, ground hazelnuts
2 tablespoons sugar
3 tablespoons butter, melted
3 packages cream cheese, softened
1 cup sugar
3 eggs, slightly beaten
3 tablespoons hazelnut liqueur
24 skinned, toasted hazelnuts
4 tablespoons sour cream (NOT low fat)
1 tablespoon hazelnut liqueur





Directions

Preheat oven to 300 degrees F. Finely chop 1/3 cup chocolate chips. Add to a mixing bowl chopped chips, wafer crumbs, ground nuts, 2 tablespoons sugar, and melted butter. Mix until combined then press into the bottom and along the sides of a springform pan.

Bake for 12-15 minutes. Remove from oven and allow to cool completely. Turn oven to 350 degrees. In a large bowl, beat cream cheese until light and fluffy. Add sugar and mix well. Roughly chop 1 cup of chocolate chips and stir in. Pour over crust and bake for 60 minutes. Turn oven off and open the door, allowing cheesecake to set up in the oven for several hours. Once the cake has set, remove from oven. Carefully remove the outer ring from the pan and place the dessert in your refrigerator until the toppings are ready to be added. Melt remaining chips in a double boiler and stir until smooth. Dip whole nuts halfway into the melted chocolate and shake to remove excess. Place on waxed paper to harden. Add sour cream and liqueur to the remaining chocolate and stir until combined. Spread on top of cheesecake then garnish with dipped hazelnuts.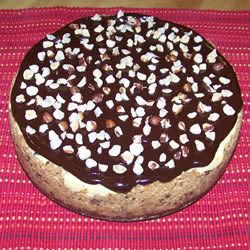 Nordic Ware Leakproof Springform Pan, 10 Cup, 9 Inch
Frangelico Hazelnut Liqueur 1 L