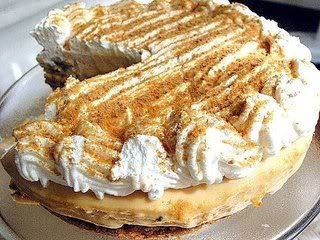 This pie may take a bit of time to make, but the end result is so worth it!
BANANA DULCE DE LECHE PIE
1 (14 ounce) can sweetened condensed milk
1 cup graham cracker crumbs
1/2 cup butter, melted
4 bananas, sliced
1 1/2 cups whipping cream
2 tablespoons powdered sugar
1 teaspoon vanilla extract
DIRECTIONS
To make
dulce de leche
, place the unopened can of sweetened condensed milk in a saucepan, and add enough water to cover half-way up the can. Place the saucepan over medium-high heat and bring to a boil. Cook for 3 hours, adding more water as necessary. Remove from heat and cool. Once the milk has cooled, preheat oven to 350 degrees F. Combine butter and graham cracker crumbs in a bowl and stir until well combined. Press the mixture evenly into the bottom and up the sides of a pie plate. Bake crust 10-12 minutes. When done, the crust will be golden brown. Place on a wire rack and allow to cool. Open the can of milk and pour half of it onto the baked crust. Top with banana slices then pour remaining milk on top. Beat whipping cream in a chilled mixing bowl with an electric mixer until soft peaks form. Add powdered sugar and vanilla and continue to beat until stiff peaks form. Spoon on top of the pie and chill in the refrigerator for at least one hour before serving. If desired, granish with graham cracker crumbs and caramel sauce.